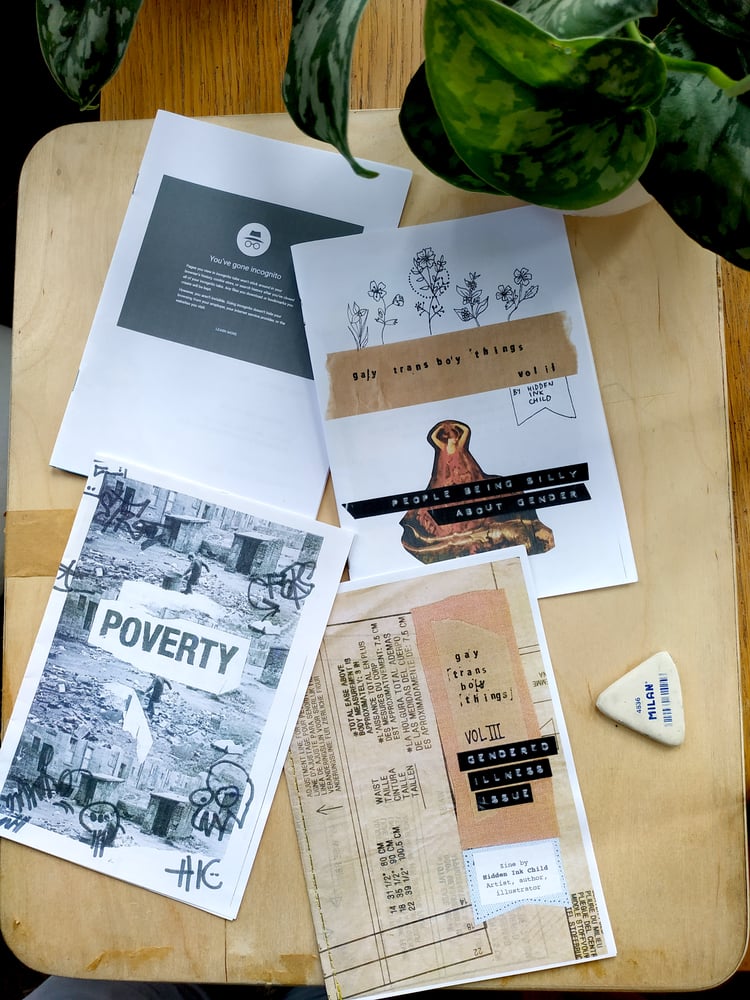 Gay Trans Boy Things Vol 1 [You've gone incognito, pictured top left]
My very first 12 page Perzine. The beginning of a tale about figuring out some stuff, and navigating the world when you have. Contains sex talk, the effect of section 28 on a generation, and internalised homophobia you never knew you carried. Second edit run, with additional note from creator.
PovertyZine [Pictured lower left]
A part informative, part personal zine about current poverty in the UK. Definitions, experiences, stereotypes and some derisive choice statistics about tax evasion vs benefit fraud. This is a Pay What You Can Zine, so please contact me on instagram or here if you wish to pay more or less than the price indicated.
Gay Trans Boy Things Vol 2: People Being Silly About Gender. [Pictured Top right]
This one takes a look at toxic expectations of gender and identity with collaging, memes, glitter and spooky boobies, in the aftermath of the gender recognition consultation.
Gay Trans Boy Things Vol 3: Gendered Illness. [Pictured bottom right]
This stitch bound zine contains a written account of healthcare service provision difficulties for one trans guy with endometriosis, and discussion of how societal discourse of trans folks needs to change.